昨天是加拿大国庆节,枫叶国迎来了152岁生日。每年,都有来自不同国家的移民选择在这一天,加入加拿大国籍。当然,在成为加拿大公民之前,必须要通过加拿大的入籍考试,那考试内容有些什么呢?
比如说,你知道谁是加拿大的国家元首吗?努纳武特(Nunavut)什么时候成为区域(Territory)的?Louis-Hippolyte La Fontaine爵士是谁?你能列出加拿大公民的六项责任吗?你能说出加拿大三大行业类型吗?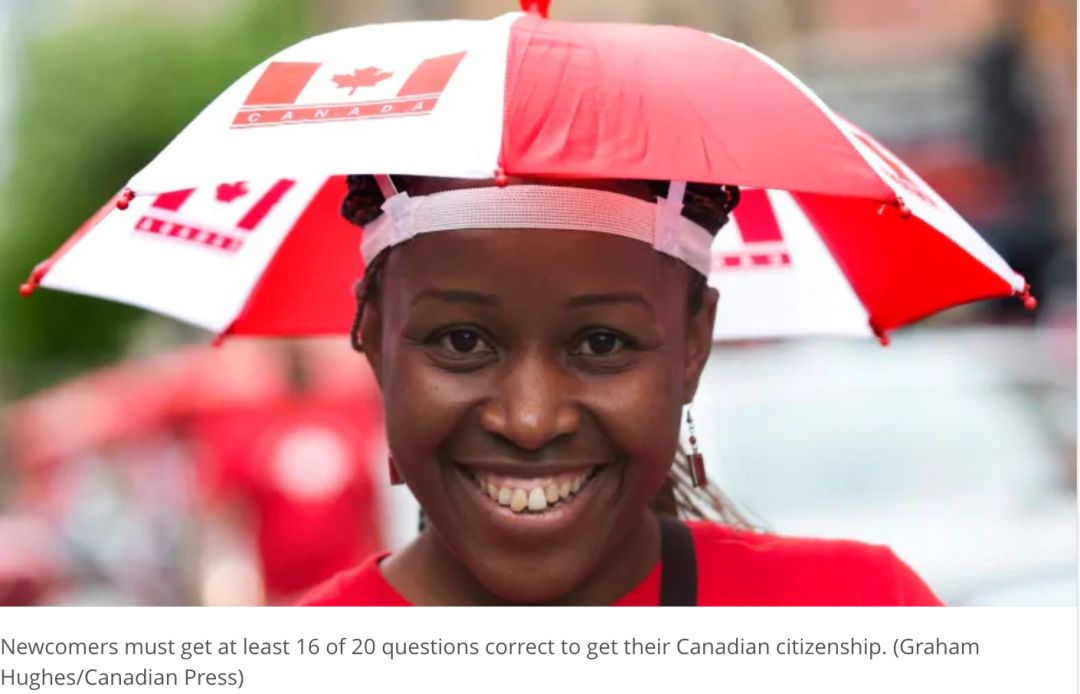 本周一(7月1日),来自14个国家的约30人在PEI Skmaqn-Port-la-Joye-Fort Amherst国家历史遗址举行的仪式上获得了加拿大国籍。
不过在这之前,他们必须在30分钟内回答20个类似上述问题的多项选择题,并且错题不能超过4个。
PEI Newcomers的Valerie Fitzpatrick 说:"对于新移民来说,考试很有压力。"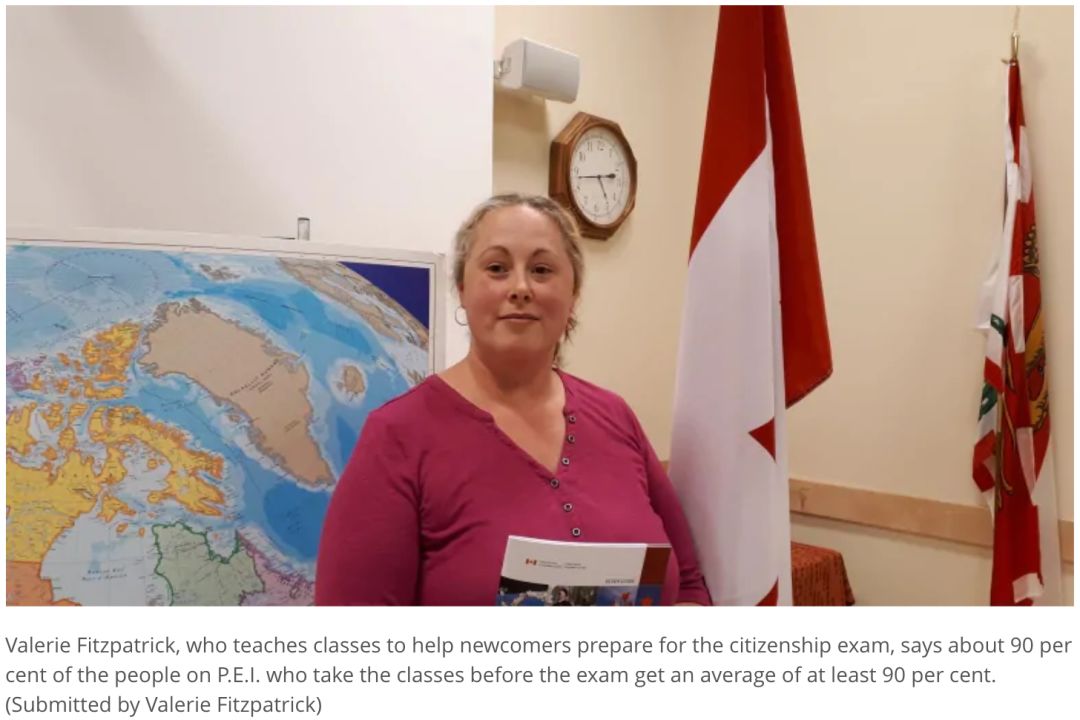 Valerie Fitzpatrick是PEI Newcomers帮助新移民准备入籍考试课程的老师。她说,PEI大约90%的人新移民在考试前会来上课,这些人考试的平均分大概在90 分。 (由Valerie Fitzpatrick提交)
Fitzpatrick帮助新移民准备入籍考试,每年会有4次。考试的问题大都来自加拿大公民和移民部的学习指南(Discover Canada: The Rights and Responsibilities of Citizenship)。
Fitzpatrick介绍,考试问题涉及加拿大的历史,地理,经济,政府,法律和符号。
PEI大约有90%的新移民在考试前参加了Newcomers的组织的培训课程,上课的新移民考试分至少达到90%。
Fitzpatrick:"当新移民通过测试时,他们会非常兴奋。"
如果考生未通过考试,他们可以在下次考试时再次重考,但问题会不一样。
Fitzpatrick说,一些主题学起来是很枯燥的,但她试图让学习尽可能有趣,以减轻大家的焦虑。关于政府治理和加拿大司法体系的一些专业问题对于新移民来说是最困难的。
例如,"关于在投票站里做什么?"这样的问题,因为新移民在成为公民前是不可以进入投票站的,所以他们但他们只能背下里整个流程以应对考试。"
Fitzpatrick说,当她第一次做入籍考试的样本测试时,她的得分并不高,她认为,即便是加拿大人也会发现一些问题很具有挑战性。
想试试看吗?以下是PEI Newcomers提供的20道简单的入籍考试试题。快来测测看吧!
1. Who is Canada's Head of State?
A. Governor General of Canada.
B. Her Majesty Queen Elizabeth II.
C. Prime minister.
D. Lieutenant governor.
2. What do you call a law before it is passed?
A. A new law.
B. A proposed law.
C. A bill.
D. A new proposal.
3. How are members of Parliament chosen?
A. Appointed by the prime minister.
B. Elected by Canadian citizens.
C. Appointed by the Queen.
D. Elected by the provincial ministers.
4. How does a bill become law?
A. The lieutenant governor must approve the bill.
B. Approval by a majority in the House of Commons and Senate and finally the governor general.
C. The Queen must sign the bill.
D. Approval by the members of the legislative assembly.
5. On what date did Nunavut become a territory?
A. July 1, 1867.
B. April 1, 1999.
C. June 24, 1995.
D. March 31, 1949.
6. Oil was discovered in Alberta in 1948? 
A. True.
B. False.
7. What are the three main types of industry in Canada?
A. Natural resources, tourism, and service industries.
B. Tourism, services, and manufacturing.
C. Natural resources, tourism, and manufacturing.
D. Natural resources, manufacturing, and services.
8. What is the significance of the discovery of insulin by Sir Frederick Banting and Charles Best?
A. Insulin is a hormone that permits you to eat anything you wish.
B. Insulin has saved 16 million lives worldwide.
C. Discovering insulin opened the doors to more discoveries.
D. Discovering insulin made Banting and Best famous.
9. The border between Canada and the USA was the outcome of the Second World War.
A. True.
B. False.
10. What did the Canadian Pacific Railway symbolize?
A. Easy access to the West Coast.
B. What can be achieved by working together.
C. Unity.
D. Ribbons of Steel.
11. Who was Sir Louis-Hippolyte La Fontaine?
A. Champion of democracy and Aboriginal rights.
B. Champion of democracy, French language rights and first leader of a responsible government in the Canadas.
C. The first head of state.
D. The first French-speaking prime minister.
12. Why is the battle of Vimy Ridge important? 
A. It was a key position of the German line in Northern France.
B. Canadian Corps secured its reputation for valour and bravery.
C. It was the "hinge" of the German line as it protected the newly constructed Hindenburg line.
D. Once Canadians fought at Vimy they knew they would be heading home.
13. What does the word "Inuit" mean?
A. "Eskimo" in Inuktitut language.
B. "Home" in English language.
C. "The people" in Inuktitut language.
D. "The Artic Land" in Inuktitut language.
14. Since 1854, how many Canadians have been awarded the Victoria Cross? 
A. 94.
B. 96.
C. 97.
D. 98.
15. The Canadian Coat of Arms and motto is "A Mari Usque Ad Mare." This means: 
A. From the ocean to the sea.
B. From sea to sea.
C. From the sea to the ends of the Earth.
D. From the water to the earth.
16. What is the largest religious affiliation in Canada?
A. Roman Catholic.
B. Muslim.
C. Jewish.
D. Hindu.
17. Acadians are the descendants of French colonists who settled in what are now the Maritime provinces in 1602.
A. True.
B. False.
18. What does equality under the law mean? 
A. Being the same.
B. Being like everyone else.
C. Being discriminated against.
D. Being treated with equal dignity and respect, and having equal rights to speak out and express ideas.
19. Name six responsibilities of citizenship.
A. Get a job, make money, raise a family, pay taxes, mow your lawn, vote.
B. Vote, join a political party, get a job, obey the law, drive safely, pick up litter.
C. Care for the environment, don't litter, pay taxes, obey the law, help others, respect others.
D. Vote, help others, care for our heritage and environment, obey Canada's laws, get a job, and serve on a jury.
20. Saskatchewan, once known as the "breadbasket of the world" has 40 per cent of the arable land in Canada and is the country's largest producer of ____________ and ____________ . 
A. Pulp and paper.
B. Oil and gas.
C. Grains and oilseeds.
D. Energy and mining.
Answers: 1. B 2. C 3. B 4. B 5. B 6 B (It was 1947, of course!). 7. D 8. B 9. B 10. C 11. B 12. B 13. C 14. B 15. B 16. A 17. B (It was 1604). 18. D 19. D 20. C
 (文章译自CBC News)